By Ben Johnston  Story Ideas? Email ben@roseaustar.com
With the high school spring sports teams well underway, the City park opening and graduation fast approaching, you can practically smell Earl's Drive In firing up the grill for summer. There's no lack of summer events around town, and, this summer, the ball fields are no exception.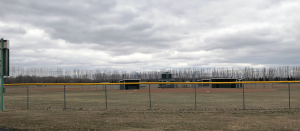 Adult Softball
A Monday night adult softball league is taking team and individual registration for a summer season scheduled to start June 3, with all games being played on the softball fields at the Rams Sports Complex East of the Ram's Sports Center. Teams are a minimum of 8 players, with no more than 14 being allowed to sign up. The cost for team registration is $100. Individuals can sign up to be placed on a team for $10.
Youth Ball Programs
Thursday night youth ball registration is open until May 24, with games starting June 6 and running through early August. There will be two age groups this year — beginner T-ball for ages 4-5 and coach-pitch softball teams for ages 6-8. Parents are encouraged to volunteer to assist with coaching and on game nights. Registration is $12 per child.
Registration for both the adult softball league and the youth ball programs can be done online at www.city.roseau.mn.us/recreation.
Competitive & Traveling Teams
Traveling baseball and softball teams this summer include Cal Ripken baseball for ages 8-12, Babe Ruth baseball for ages 13-15 and Legion baseball for ages 16 and up. Summer baseball league information can be found at www.roseausummerbaseball.com. Babe Ruth and Cal Ripken registration is officially closed, but interested players can still contact Tracy Wensloff at 424-7285 about late registration.
Youth fastpitch softball will have teams ranging from 8U-18U sponsored by the Roseau Softball Boosters. For more information on the Roseau Softball program contact Teresa Hulst  Teresa_hulst@roseauschool.org at the Roseau Community School.
Last modified: 05/03/2019