Works featured in the Fiber Works and Rosemaling Exhibit
Join us for an artists reception celebrating local artists Cathy Forgit (fiber works) and Jean Honl (rosemaling) on Saturday, May 4 from 1 – 4 PM at the Northwest Minnesota Arts Council Gallery in East Grand Forks. We will have light refreshments, and Jean will also be demonstrating her rosemaling. This is held in conjunction with the Art and Wine Walk.
Cathy Forgit of Fertile, Minnesota shares pieces that harken back to the "olden days": coverlet patterns from the past, hides from primitive sheep once used to keep the sleeping warm, striking block patterns, and one wool rug spun from the wool of her own sheep.
Jean Honl of Roseau, Minnesota not only decorates functional pieces with rosemaling, she constructs those pieces herself. She has her own woodshop where she builds pieces such as the chair on display in the gallery. She then adorns them with rosemaling, a traditional Norwegian style. Jean was recently named the Northwest Minnesota Artist of the Year. This award is given each year to recognize artists within our seven-county region who stand out in terms of artistry. Jean has been rosemaling for 45 years and is a self-taught woodworker.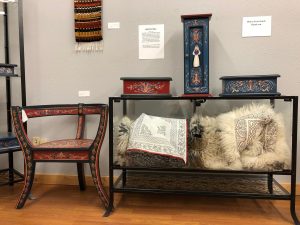 The Art and Wine Walk is located in downtown Grand Forks and East Grand Forks. Participating businesses feature an artist showcasing their work, while offering wine and appetizers. The Art and Wine Walk has a small participation cost if you want to attend the entire event. However, the public is welcome to come to our gallery to support the artists without choosing to participate in the official Art and Wine Walk. Take advantage of the opportunity to view the art on display and for sale at the Riverwalk Gallery. In addition, Riverwalk Artists is currently looking for members. Don't miss an opportunity to join Riverwalk as an Artist member right now, going into this busy art and wine walk season!
The NWMAC Gallery is located at 211 DeMers Avenue, East Grand Forks, MN 56721 (located within the Riverwalk Artists Gallery.) The gallery hours are Friday–Saturday, 2:00–8:00 P.M. and Sunday, 2:00–5:00 P.M. Before you make a special trip to East Grand Forks, just see this exhibit, double check that the gallery is open (email stephaniemolson@gmail.com).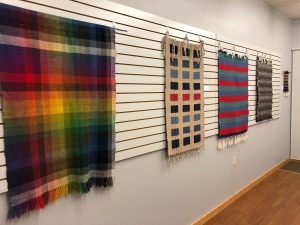 This exhibit is open through May 4. Make sure you stop by to see it before it closes! Our next NWMAC showcase is called Parenthood and has a call for entries deadline date of April 28. The art in this showcase will be part of the June 1 Art and Wine Walk reception.  Art on the theme of mothering, fathering, parenthood, art created by a parent and child, and functional art related to parenthood.  If you are a Northwest Minnesota resident, contact stephaniemolson@gmail.com to enter your original art. Dates of this showcase are Mother's Day weekend May 10 until Father's Day on June 16.
For more information about our exhibits look to our website at www.NWArtsCouncil.org, or if you are an artist interested in exhibiting a body of work with NWMAC, please contact Stephanie Olson at (218) 688-1256 or email NWArtsCouncil@gmail.com.  This exhibit is made possible with funding from The McKnight Foundation in Minneapolis and the Clean Water, Land and Legacy Amendment in Minnesota to the Northwest Minnesota Arts Council.  To view more information on the Northwest Minnesota Arts Council look to our website or Facebook page.  Please sign up for our e-newsletter on our website home page to see the latest news and grant announcements.  Email director@NWArtsCouncil.org or call 218-745-9111 to reach our office during regular business hours.
Last modified: 04/16/2019